7 tips to drive social media engagement for businesses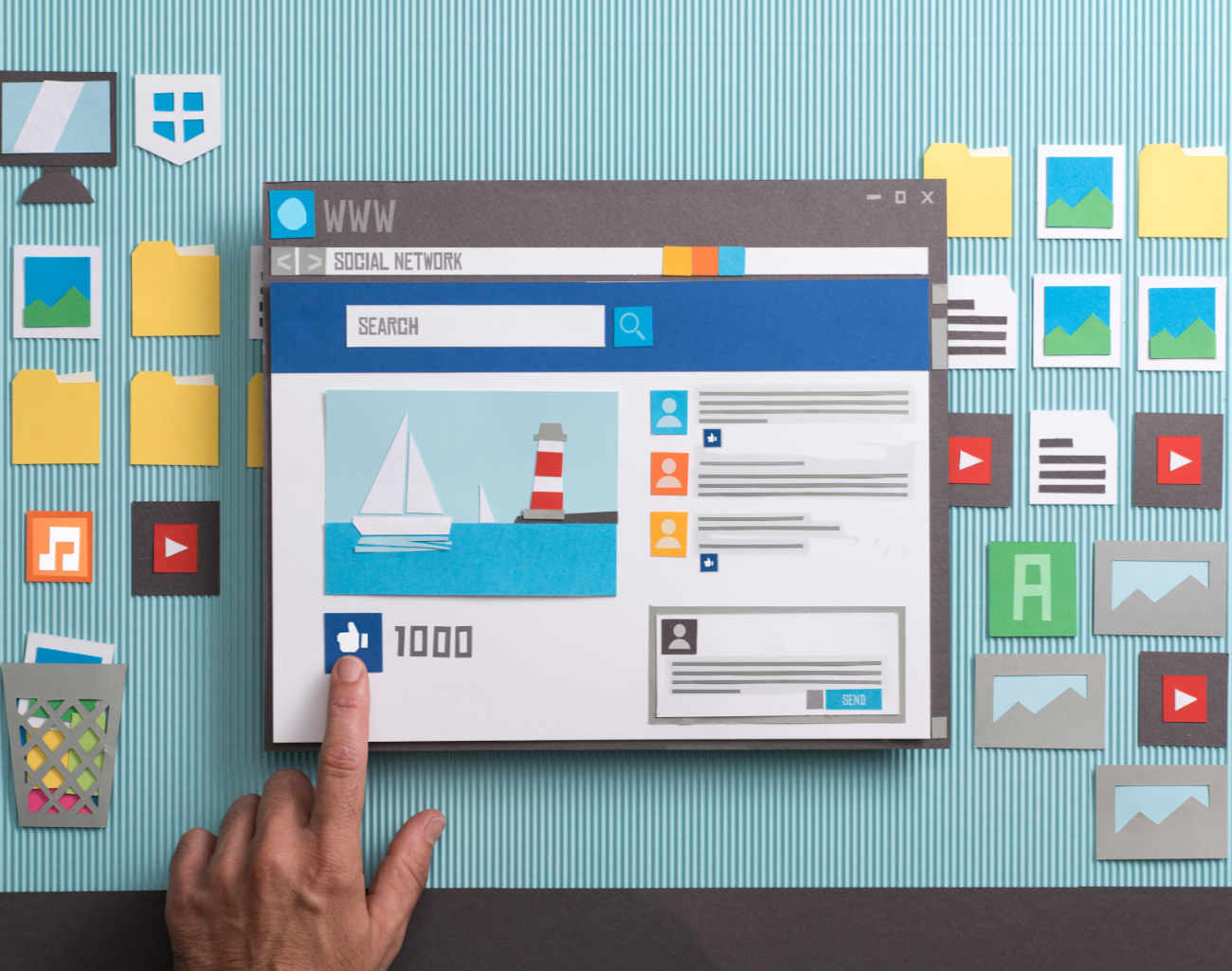 Social media engagement pays dividends. According to the Internet Advertising Bureau UK, 80% of consumers are more likely to buy due to a company's presence on social media. Having a social media strategy is a vital part of any marketing activity and its primary aim to drive customer engagement.
But getting people to engage with your social media posts can be tough. A handful of likes, retweets and click-throughs often feels like a grinding, hard-fought achievement. It can sometimes feel that your business is tweeting, pinning and posting with very little in return.
What is social media engagement?
Social media engagement measures how people interact with your social posts. But likes, follows and comments aren't the only end game when it comes to social media engagement. Getting people to do something, share something or even feelsomething for your brand is a far more authentic form of social media engagement. Successful social media engagement brings your brand into an emotional space where people actually care enough to do something.
How to improve social media engagement
If your social media activity feels like you're spinning your wheels, pouring money and time into limited returns, you need to adopt some quick wins to boost engagement. Here's seven ways to get your social media engagement strategy into top gear.
1.     Ask questions on social media.
People love to share their thoughts. Good. Bad. Controversial. Random. It doesn't matter. Inviting opinion gets back to the roots of social media. So, instead of blindly posting sales or messages or company updates, give your social followers a platform to share their opinions.
You'll need social media stimulus. Ask questions such as how your customers would approach a problem. When launching the Which? blogging platform, I found that requests for advice (such as how to boost a home wi-fi signal) resulted in a deluge of tips – from the obscure to the amazingly helpful.
Turbocharge your social media comments by asking followers to share their knowledge or stories. At Saga, we asked everything from the best gravy recipes (astoundingly popular) to tips on successfully appealing speeding fines (even more popular). They're hot topics – even the gravy! People love to share their 'get out of jail' tips with others.
Still stuck? Use Facebook polls or Twitter polls and make them fun. Create engaging polls such as guessing the next name of a storm to batter the UK or which 'contestant' is likely to get to booted from Love Island. Tie them into topical, newsworthy events – think about what people would be talking about around the office water cooler on a Monday morning.
Polls can be a light-hearted way to reflect brand values. Try fun polls (which superpower would you most want) that add some humour to your brand. Alternatively, polls that polarise and get a reaction such as thoughts on government policies, news or the classics (are dogs really cleverer than cats?) boost engagement.
Kissmetrics has a timeless post on the types of social media questions you can ask to get the conversation started on social.
Plan your social media strategy with our helpful guide to creating an editorial calendar for content marketing.
2.     Social media competitions.
Competitions work and hugely boost engagement. Perversely, the size of the prize doesn't matter, the more 'real' the prize, the more engaged people are. Don't put a huge fortune up for grabs. A treasure chest of prize money will get the same engagement as a £25 DVD boxset. Seriously, people are happy to win a book, and will work just as hard to get it. Create a daily pipeline of competitions to ignite your social media engagement.
For small businesses on a tight budget, this is astonishingly good news.
Final tip for competitions. Encourage followers to post photos with your brand or a brand hashtag. Get customers to enter posting a hashtag, with the winner being the best photo or post.
The Social Media Examiner has a good primer for social media contests with some broad market examples.
3.     Instant offers drive social media engagement.
Being in the know is powerful. Reward loyal followers by making them feel part of an exclusive club with exclusive discounts, flash sales and offers via your social channels. Instant offers demand immediate engagement or risk the chance of missing out.
Everyone loves a bargain – especially if it isn't widely available. Amp up the exclusivity and squeeze the time available to redeem an offer to increase click throughs and basket value.
Make social media discounts worthwhile – offer more than 20% off – and keep them time-limited. Keep the discount offer window small. A flash sale that runs from 12noon to 6pm with 33% off anything in the shopping basket and the hashtag #summersaving will reward loyalty and boost basket value. Hashtags are important. Make the offer shareable via hashtags – you need to help people feel they're part of a closed social network, and they'll love you for it.
Nielsen got right to the point with its report on social media competitions with the study Deal with It! Discounts Drive Brand Love On Social Media.
4.     Social media engagement with visuals and video.
Boost social media engagement by putting serious time and resources into visuals and video. Brilliant, professional visuals and video have become the staple of highly engaged social media channels.
Boards in Pinterest and posts on Instagram demand quality images, great lighting and professionally composed shots. That can be costly, but it's worth investing in ensuring your shots are well-lit, sensibly composed and relevant to your audience. You'll dramatically increase post engagement, likes and shares.
Make photos and videos inspirational and engaging. Don't shoot talking heads against an office wall with dull lighting. Photos of exotic locations or sapphire seas lapping onto sparkling beaches will guarantee retweets and comments if you're a travel business.
NewsWhip has a fascinating dive into the performance of video versus photos on Instagram, and how well publishers perform depending on the type of photos they use (unsurprisingly, National Geographic on Instagram the a clear winner).
5.     Social media hashtags are your friend.
Make the hashtag your friend and go to town on hashtags. Hashtags are your route to discoverability. Don't choose random hashtags. Hashtags need to be topical so it's worth looking at trending topics. Put effort and time in selecting and adding hashtags.
I often get asked how many hashtags each post should have. For Instagram, aim for 10-15 hashtags for each post. For Twitter, aim for 3-4 hashtags.
Need more help? Social Media Online Classes has a helpful infographic on the types of social media hashtag to use and how.
6.     Social media causes.
Social causes drive social media engagement. Create a campaign that you know your audience will actively engage with, which reflects your brand values. Caring is incredibly powerful and posts that ask people to share to raise awareness of an issue or injustice are highly successful.
Identify a charity that your business and your team can get behind. Commit to donating a specific amount if certain milestones are reached and ask your social media audience to get involved. Encourage followers to retweet, share images, and their own good deed stories that raise awareness of the issue that your business is trying to highlight.
Share the story and campaign on Facebook and LinkedIn. Be clear what your 'asks' are: what does your business want changed, and how does it benefit your target audience – even people who are not your customers.
Stuck for inspiration? The Guardian has a pictorial that showcases some of the best social media campaigns that tried to effect real change on a global scale.
7.     Create brilliant social media headlines
Words matter when writing a social media post. Take time to craft your posts so they stimulate engagement:
Advice is good. Create posts that offer advice and start with 'how to…'. It's the most popular prefix for a Google search term for a reason. People want to know how to do almost anything – from rewire a plug to handle probate when someone dies. It will improve your discoverability and offer a real service to your social media followers.
Take a leaf out of the pages of magazines. Use numbers to grab attention. Numbered lists – from beauty tips to money savers – really engage. A whole industry – from native advertising to Buzzfeed – has grown based on our addiction to lists.
Choose words with power. Choose active words that intrigue, shock or motivate a person to find out more. Words such as 'free', 'miraculous', 'unlimited', 'discount', 'secret', 'surprising' and 'the truth about' in posts command attention and increase social media engagement. There are hundreds of power words helpfully collated by CoSchedule – download the Power Words 500 list from CoSchedule and pin it to the wall of your marketing department.
Social media engagement isn't just about firing off lots of posts. It requires planning and strategy. The best type of engagement is linked into brand values, PR and comms campaigns, and supported by activities such as competitions. With a bit of investment and planning, you can get some quick social media wins and see social media engagement increase.
Find out more about Submerge's approach to social media marketing.